Caligari  isn't your typical curry spot. Then again, Akihabara isn't your typical destination. This Akiba-style curry restaurant works to sell Akiba culture—along with some banging curry for your buck.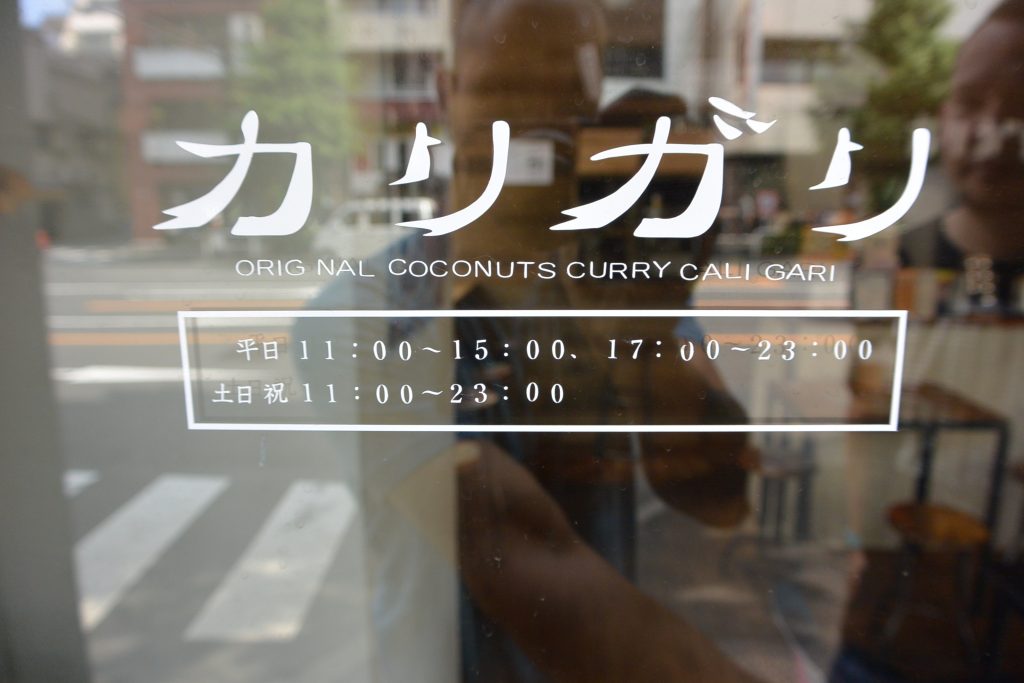 Exterior — Retro gaming … curry?
Caligari  has lunch hours from 11-3pm and 5-11pm on weekdays, but they're open all day on Saturday and Sunday. If you happen to pass by while they're closed, with the shutter down the pixelated, funky sign might remind you of your favorite NES or arcade classic. Located right off Chuo-dori in Akihabara Electric Town, Caligari   clearly evokes a retro gaming motif—but it doesn't stop there to promote Akiba culture alongside it's unique, delicious curry.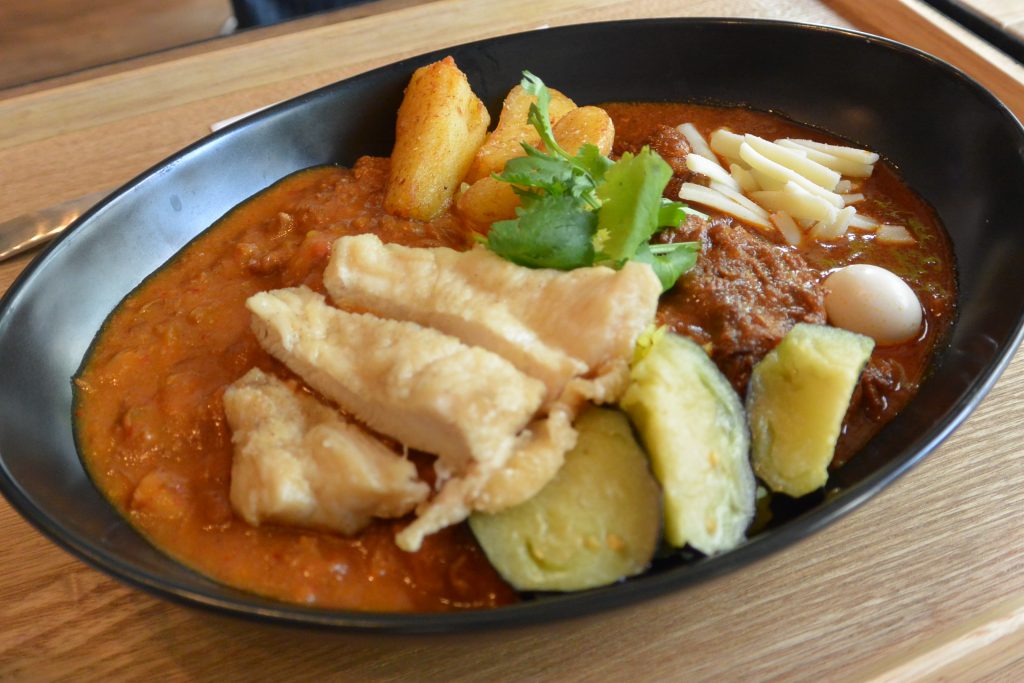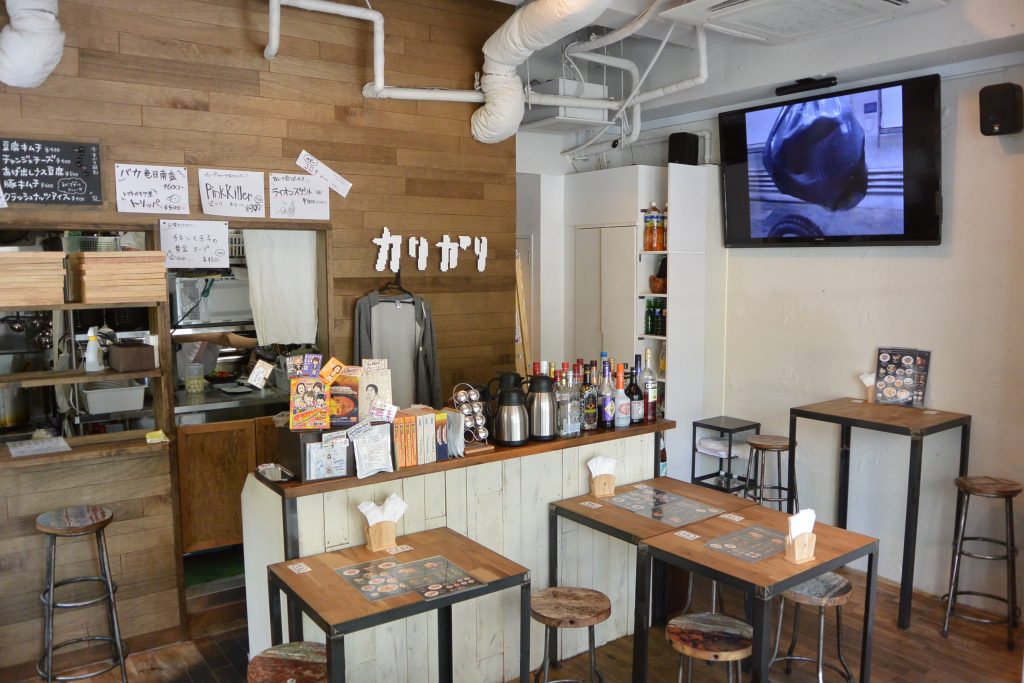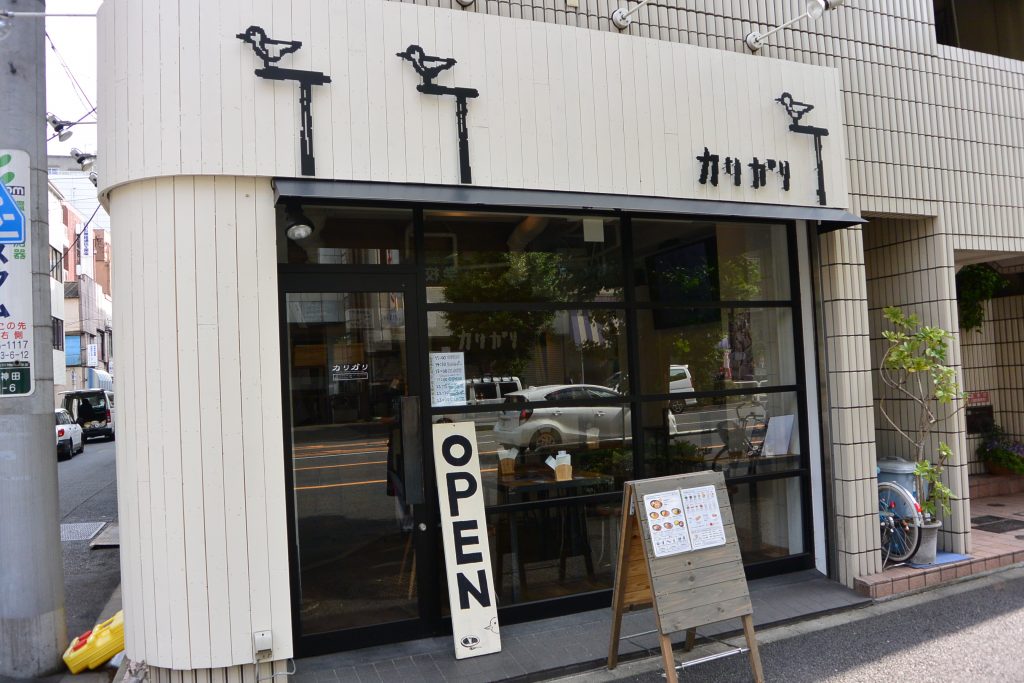 Interior — Maid cafe … curry?
Most people, male or female, will instantly notice the ultra-cute maid working the floor and register at Caligari  . I was personally not expecting this patent Akiba touch, and I think it's a genius move on the owner's part. After all, how many times has a cute girl in a maid outfit smiled at you on the street in Akiba? Now you can order curry and chat with one in a relaxed, safe environment—at no extra cost. Way to go, Caligari!
The interior is stark-white yet inviting, with wood floors and furniture. A supremely intriguing and trippy video was playing on a large wall-mounted TV, which is impossibly hard to described but I assure you, very odd and hard to look away from—exactly like Akiba itself.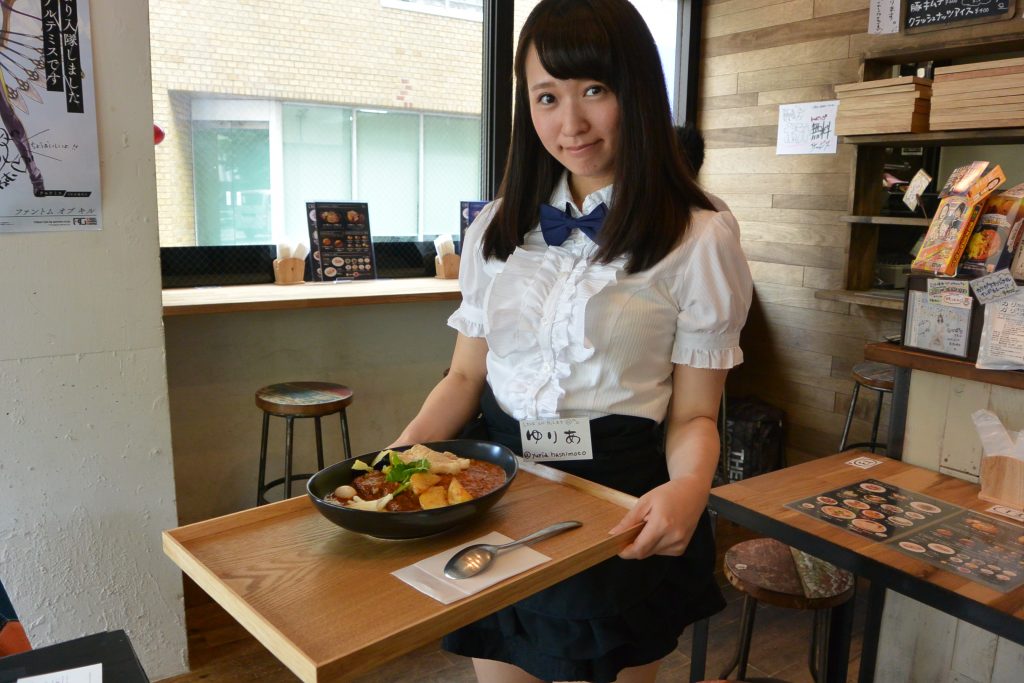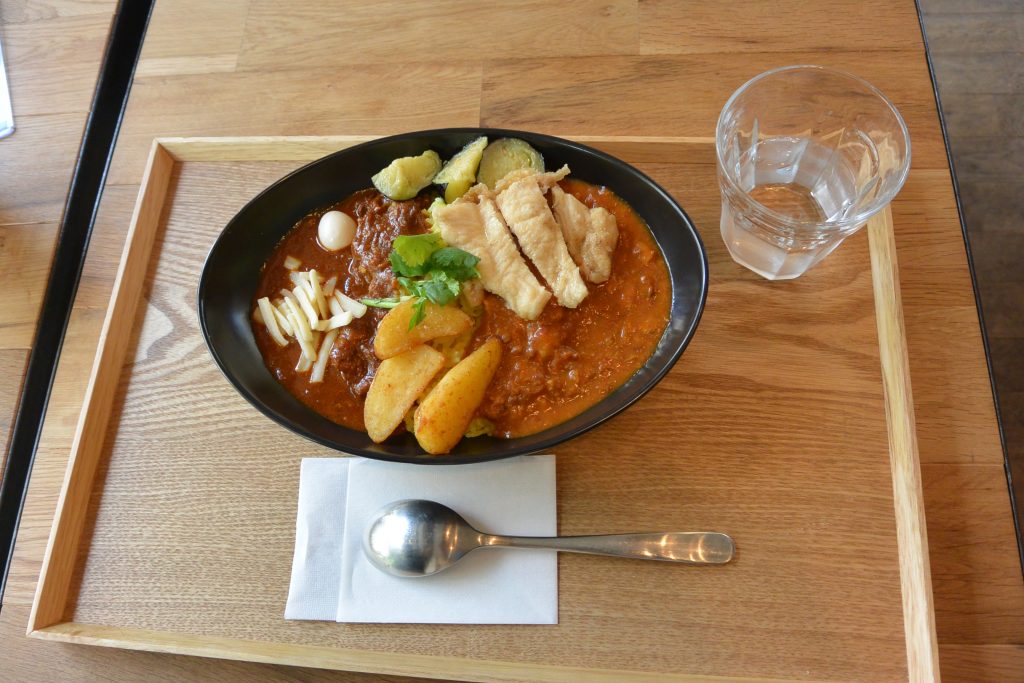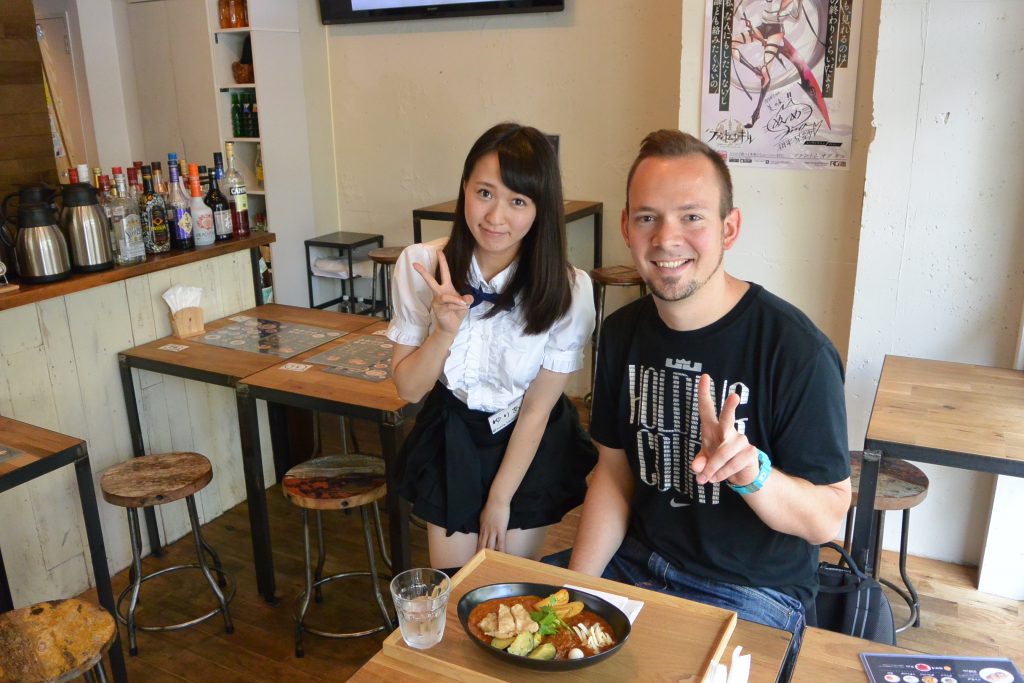 Menu — Incredible curry. And lamb chops!
Caligari has three flavors of curry — coconut curry, Indian curry and Japanese curry. Furthermore, you can get coconut and Indian on the same plate, or just do the smart thing and order the Akiba Special curry, which is a serving of both coconut and Indian curry with a variety of amazing toppings including fried chicken, broiled eggplant, crispy potato wedges, a quail egg, cheese, and cilantro. Umm yes please? Lastly, there's "soup curry," which is essentially curry with the rice on the side. Maybe if you're from Hokkaido you can try it for nostalgia's sake. But go for the Akiba special, trust me.
Aside from curry, Caligari has a surprisingly diverse ala carte menu, including multiple salads, onion rings, potato wedges, and … lamb chops, a definite rarity in Akiba, and all of Japan, for that matter. We didn't get to try them, which made me sad, but you should! And please tell us how amazingly delicious they are. Caligari's awesome menu won't let you down!
Flavor — Unique, inviting, electric. Akiba curry courtesy of Caligari
You might have guessed, but this curry seriously rocks all the way down electric avenue. Both the coconut and Indian varieties have deep, rich flavor and the Indian curry is nice and spicy. The toppings on the Akiba Special were sublime, from the perfectly crisp potato wedges and fried chicken, to the melt-in-your-mouth eggplant and the perfect addition of herbaceous, bodacious cilantro. The rice is turmeric mixed with honey making it golden yellow, sticky, and rich—second helpings may be necessary. I'm going back in the near future for more curry and the lamb chops. See you there!
Caligari Curry
Akihabara Shop
Chiyoda Sotokanda 3-6-9 Okimura Biru 1F
03-3527-1262