Animate Café is one of the most popular subculture-meets-sweets chains across Japan
Decked out in a navy blue and white outfit to match my favorite idol unit and carrying my trusty omanjū mascot with me, I joined a long line of women carrying bags lined with character badges and rubber straps trailed outside the door to the indoor café on a Friday afternoon in May. Smiling waiters led the customers – mostly young, fashionable women, tapping away at mobile games on their phones – through the glass door and we enter a bubble of Ensemble Stars heaven. 
Glossy prints and bright tapestries covered with artwork of fictional male idols greeted us. We have arrived at the Animate Café decorated to celebrate the 2nd anniversary of highly successful idol production game Ensemble Stars.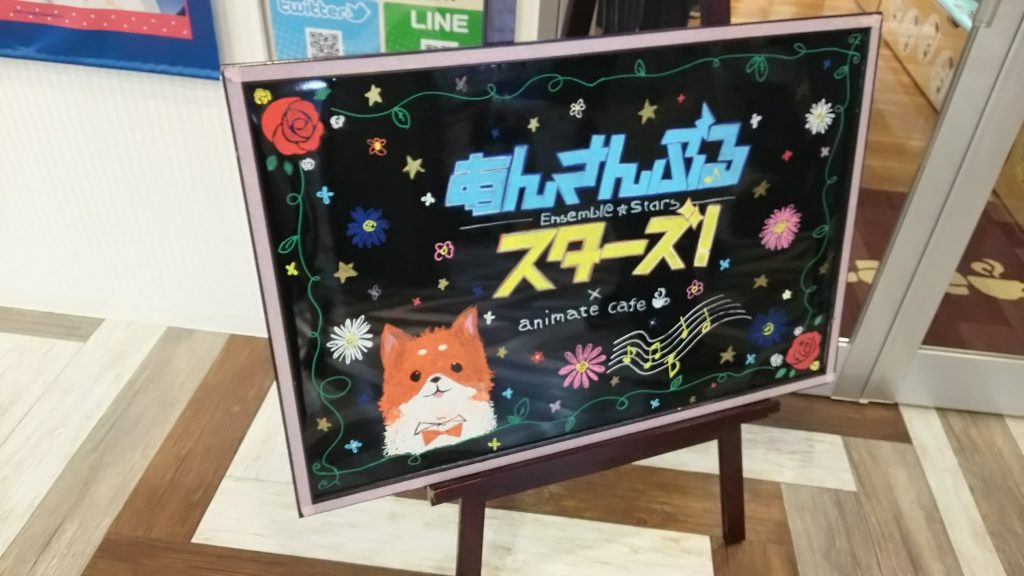 The Animate Café is one of the most popular subculture-meets-sweets chains across Japan, with eight permanent locations across Japan. It has hosted themed café events and menus for explosively popular series like Haikyū!!, Osomatsu-san, and Tōken Ranbu.
A 3-time collaborator with Animate Café, Ensemble Stars boasts comparable prestige.  Japanese gaming magazine B's Log has consistently recognized the game as one of the current top games among female subculture fans. Ensemble Stars, a game with a whopping cast of 38 characters, has over 2 million downloads and employs a variety of idol units to appeal to a wide audience – from shining pop unit Trickstar to the superhero-inspired Ryūseitai, to the fresh, cutesy sailor-uniformed Ra*bits. Since its release by Happy Elements K.K. in April 2015, the franchise has achieved eighteen music releases, four stage plays inspired by the main game story and a handful of promotions featuring well-known celebrities such as comedian Buruzon Chiemi. In the spring of 2017, the game celebrated its release with Animate Café once again with an all-new updated menu.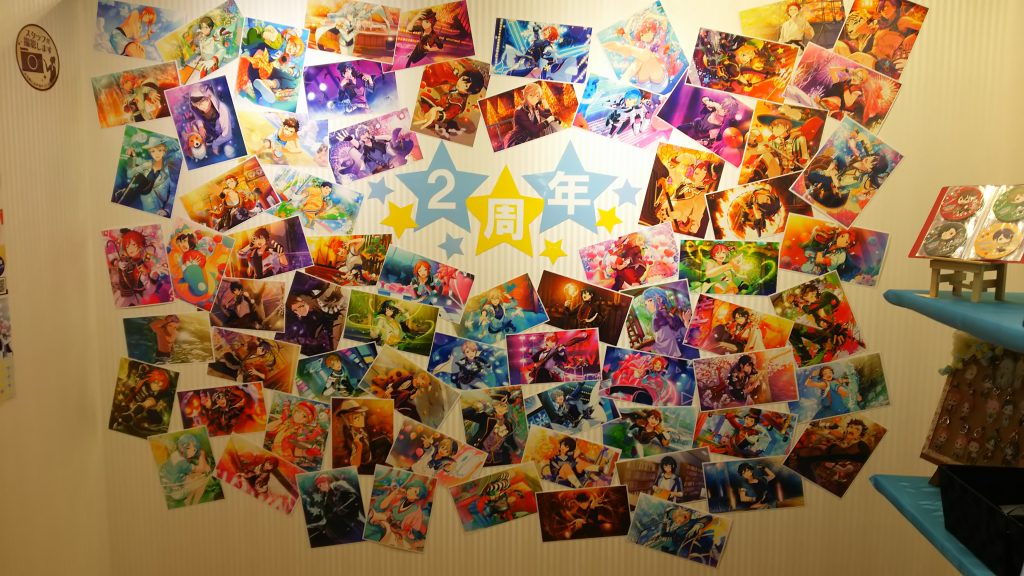 Once inside, staff guided us to individual tables and gave them a menu of specially crafted food and drinks. Idol units and individual characters from the game inspired all of the menu items in the Ensemble Stars Café.  Menu items included an assortment of chocolates mimicking Valentine's chocolates made by main unit Trickstar; a lunch item featuring buttery croissants, the favorite food of third year Shū Itsuki; and a blood red drink with an edible coffin decoration inspired by student "vampire" Rei Sakuma. The attention to detail in each item brings characters and units to life in a whole new way – by mimicking events or linking to a character's likes and dislikes.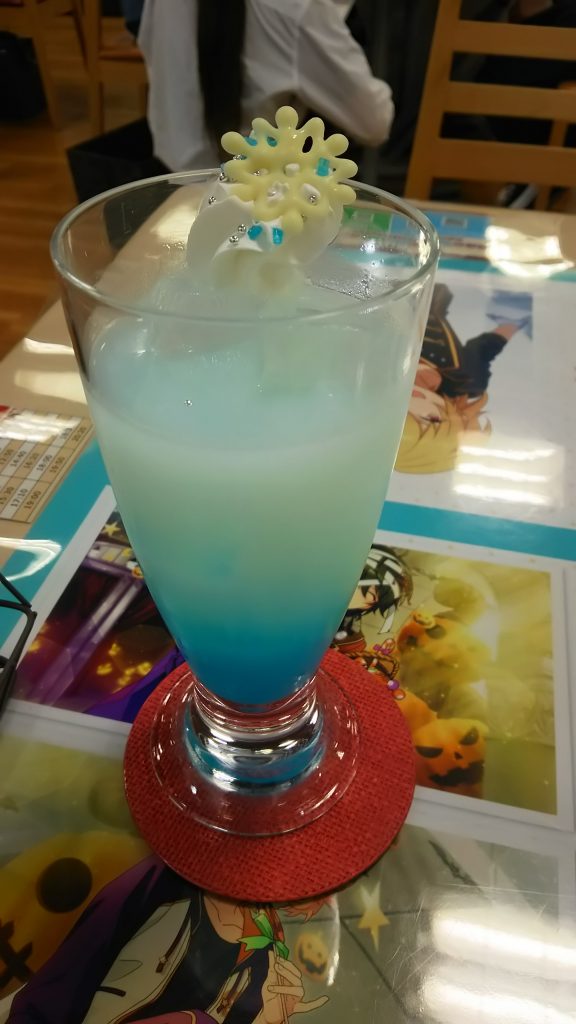 Ritsu Sakuma's dessert, based on a high rarity card from the game, was my personal favorite. Ritsu, a second-year student and the member of the unit Knights, has a peculiar talent of cooking disgusting-looking but delicious dishes, so clearly I had to try this gruesome concoction myself. The sweet dessert was only available as a first order, but the pancakes arrived warm and freshly cooked, topped with ice cream and edible printed cookies of chicken feet and tentacles! Paired with the Knights unit drink, it was a delightful and unique lunch.
After eating, fans had the opportunity to stand up and admire the café's decorations and buy exclusive goods only available at the event. Some of the decorations incorporated the goods into elaborate displays based on each unit's themes. At one point during the time window, waiters tell the customers to yell out the name of their favorite idol unit, as loudly as they can.
A social space where fans can talk, trade, and make connections
At the café, you can wear your love for your favorite character on your own body, hum along to familiar songs, and talk about them without any inhibition.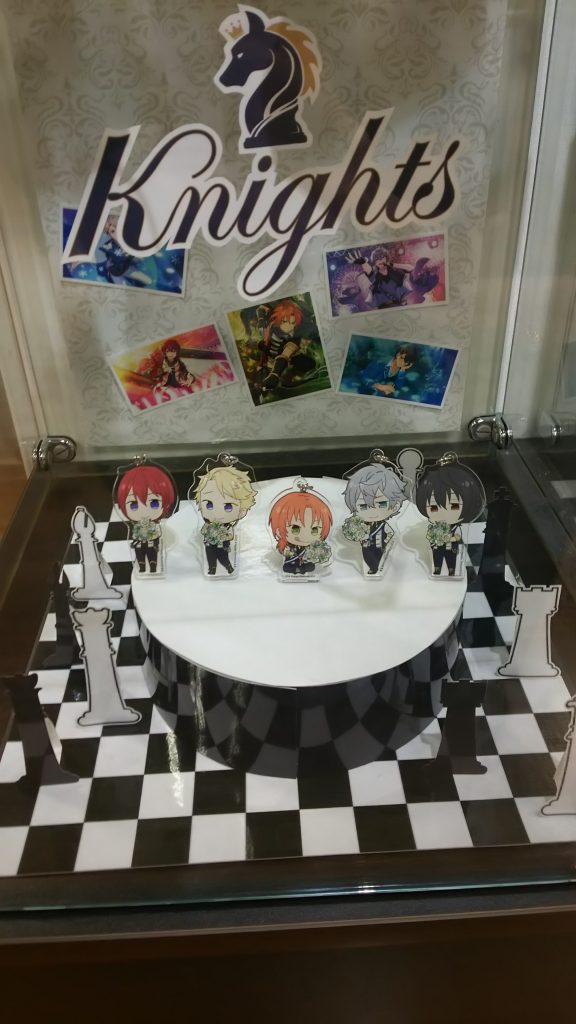 Like the other cafés, the Ensemble Stars Café sold blind box exclusive acrylic charms and pin badges that encouraged customers to buy many and trade with each other. With such a large cast of characters, many fans carried cases to hold their collections. This is not unusual for these types of cafés, and fans often bring these cases to set up makeshift trading stations at their tables. In this sense, the Ensemble Stars Café became not only an anniversary celebration or a fun way to engage with the media, but also a social space where fans can talk, trade, and make connections.
This socializing is the unique part of the café experience – unlike a large performance such as a stage play or concert, it is a smaller, more secluded space. In contrast to an autograph session or panel with voice actors and creators, it is a space of fan-to-fan interaction. Inside this specialized area, customers can bring plushes of and even hand-drawn pictures of their favorite characters to display their love and trade goods. 
For fans, it's a safe place to express themselves and show off their love and appreciation for the characters among other fans, when in their daily lives they often don't get this opportunity.
As our time neared its end, I packed up my goods, and the staff gently ushered us toward the registers and out of the café to make way for the next wave of fans. The melodies of familiar songs from the game followed us as we exited the café amid choruses from the staff urging us to come back and enjoy the safe, welcoming atmosphere of the café once again.